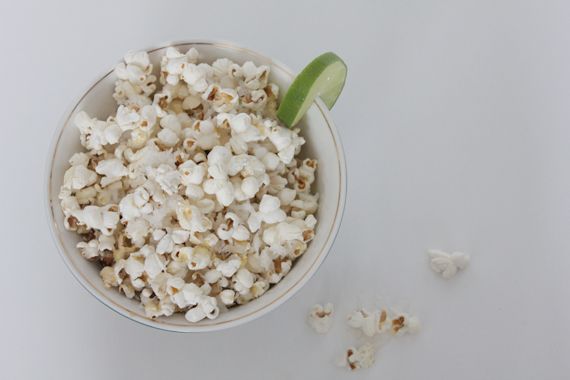 My mom always gave us real popcorn - none of that microwave crap. I remember the machine she had in the late 80s. Getting that machine out meant we were watching a movie or making a garland for the Christmas tree. It looked like a beak at the end of a long neck. When the corn popped and filled the cylinder, popcorn would fall from the beak into the bowl my mother set out. Watching and listening as the popcorn exploded and bounced around was such an exciting thing for a toddler, and created such vivid memories.
As an adult with limited space to store a popcorn machine, I make it on the stove in a big pot. Watching the oil get hot, hearing the kernels bang against the metal pot and seeing the steam rise when I finally remove the lid is just as delicious as the popcorn itself. And have you ever smelled fresh popcorn? Without butter or spices, it smells amazing.
But with butter and spices, it is even better. Working with such a blank canvas has inspired me to experiment with different flavors. For a while, my go-to was butter and
cajun spices
(goes great with beer!) but I wanted to try something a little sweeter. Inspired by my new obsession with coconut oil, I thought I'd create something to remind me of the treats I had in Hawaii.
coconut lime popcorn
1 cup popping corn
2 tbsps coconut oil
1 tsp sugar
1 lime
shredded coconut
Place 1 tablespoon of coconut oil and three kernels in a large pot with a lid on the stove on high heat. When the three kernels have popped, remove the lid, as the rest of the kernels and replace the lid. Remove pot from the heat and shake the pot from side to side as you count to 30 (get those kernels nice and oily). Put pot back on heat and watch. When popping becomes less frequent, turn off heat and crack the lid.
In a small bowl mix sugar, remaining coconut oil and the juice of one lime. Pour over popcorn and mix with a wooden spoon. Throw in a handful of shredded coconut and mix again with spoon.
Top off with some grated lime zest before serving!
// chalkboard jar DIY